DINING & BARS
Celebrate the best of local and international cuisine with countless options for you to choose from.
RESTAURANTS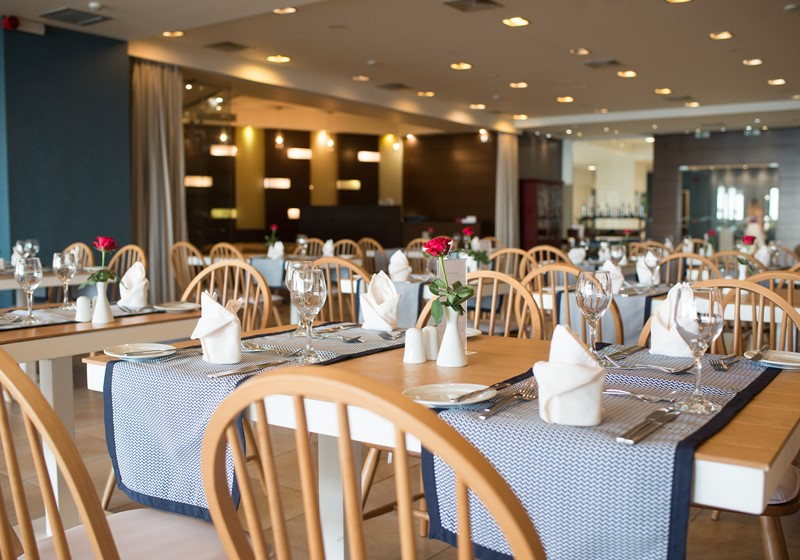 Symposium
(Main Restaurant)
Named after the ancient Greek banquets where friends and philosophers gathered, Royal Blue's main restaurant celebrates comfort food in a uniquely Cretan way. Delectable dishes such as skioufihta (heavenly Cretan homemade pasta) and Gamopílafo (rice pilaf cooked in delicious meat broth, traditionally served at weddings) are menu staples that will invite you to a joyful celebration of the island's rich culinary tradition. Happenings that range from live cooking to Cretan wine tastings paired with secret recipes from local villages, add an intimate, communal aspect — exactly as it would have been in Ancient Greece.
Breakfast: 07:30 – 10:30 (buffet) 10:30 – 11:00 (continental)
Dinner: 18:30 – 21:30
Our tip: Dress smart casual for dinner!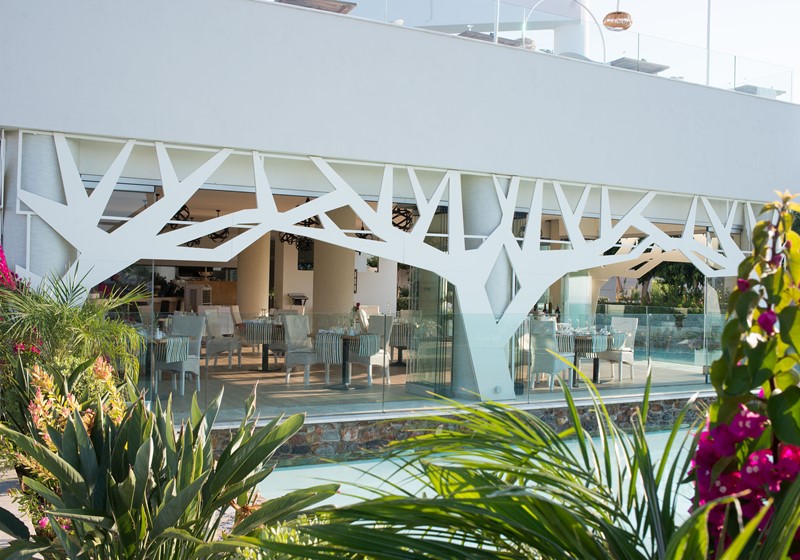 Elia
(à la carte)
Right at the heart of the resort, this rustic à-la-carte gem sports a big, open oven where all the culinary magic takes place. Watch (and salivate over) savory temptations being cooked right in front of your eyes by Elia's skillful cooks: freshly baked bread, feta, as well as a wide range of Cretan dishes with a vegetarian focus. Simply irresistible.
Dinner: 19:30 – 23:30
Our tip: Dress smart casual for dinner!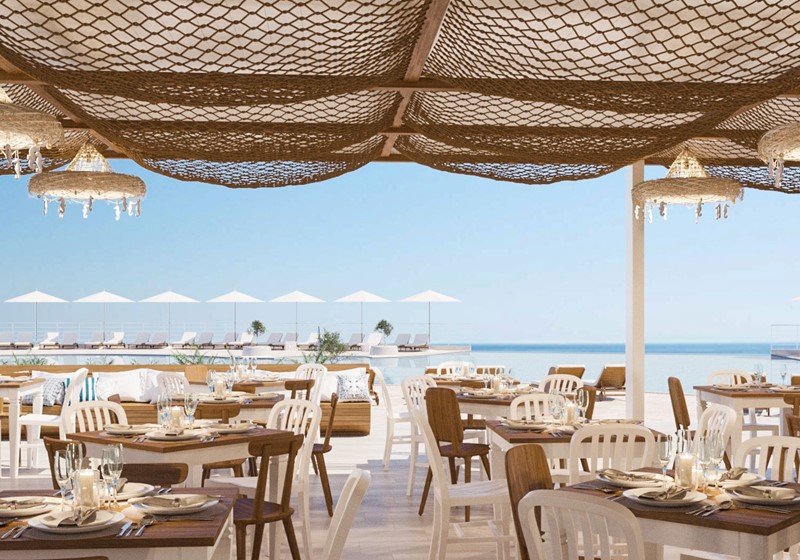 Alati
(à la carte)
A casual take on freshly-caught fish and delicious seafood, served right off the open grill by the pool, in a beautiful, laidback setting. For lunch, Alati serves international classics with a Cretan twist such as their now famous fried zucchini burger. Don't miss out on the fragrant homemade lemonade (with freshly cut herbs from the farm) at Alati's bar.
Pool Service: 10:00 - 18:00
Lunch: 12:00 - 16:00
Our tip: Dress casual for lunch & smart casual for dinner!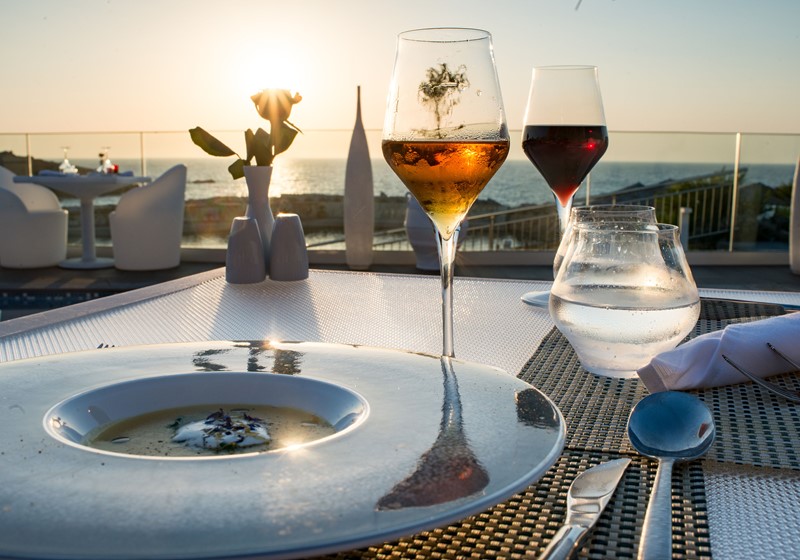 Asterias
(à la carte)
The fisherman's landing: 19:00 – 23:00
Underneath the starry night sky and overlooking the marina, an exquisite dining experience awaits. The finest selection of freshly-caught seafood from the plentiful Aegean sea is served with a unique selection of locally sourced wines from the island's excellent small wine producers.
Our tip: Dress smart casual for dinner!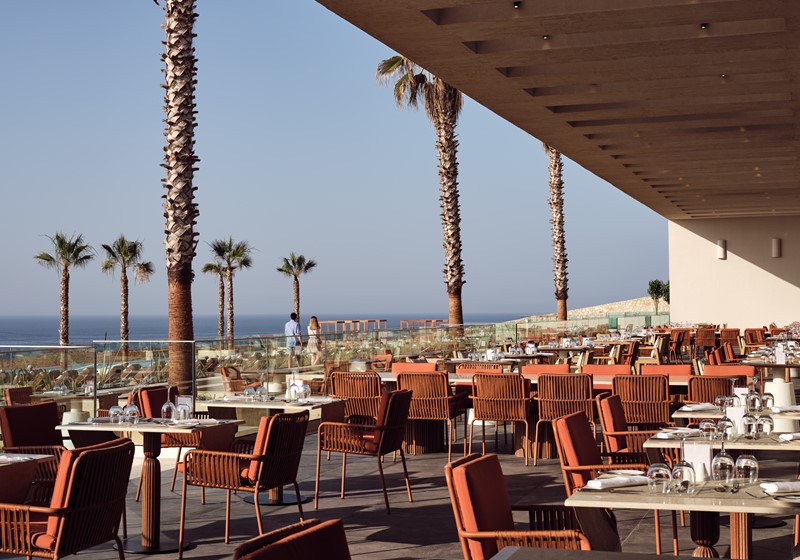 "GEA" Main restaurant
The best spot to mingle like the Cretans. Gather around the long community tables of this colorful spot and enjoy eating together like one big, happy family. Here, it's all about the great variety of fresh, seasonal, farm-to-table vegetables, as well as some light meat options. The open kitchen allows you to watch spectacular live cooking in action, with special dishes being prepared just for you.
Open daily for breakfast & dinner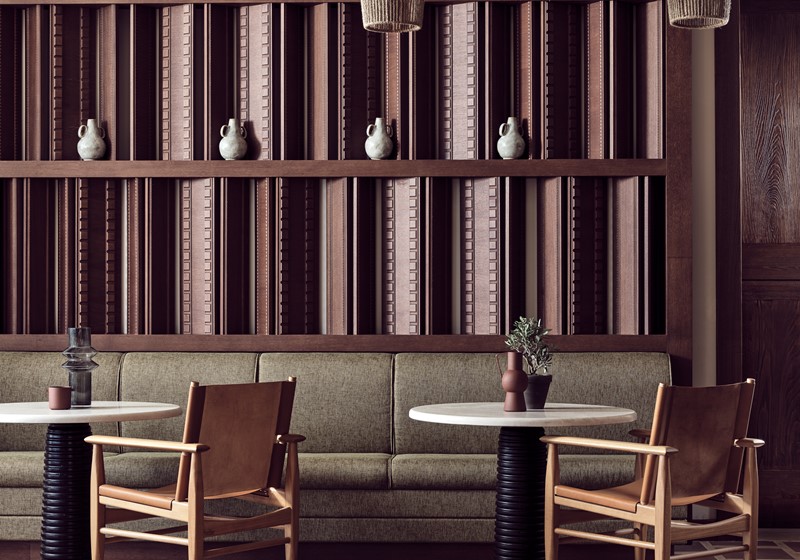 "MITATO" a la carte restaurant
The Cretan Lamb 
Crete is well known for its succulent lamb recipes — and this restaurant is devoted to honoring the island's reputation! The menu is created with a "sharing is caring" mentality so most platters are better enjoyed by couples or group of friends. Indulge in a variety of local dishes from the traditional round grill and don't forget to try the juicy lamb on a stick.
Open on selected days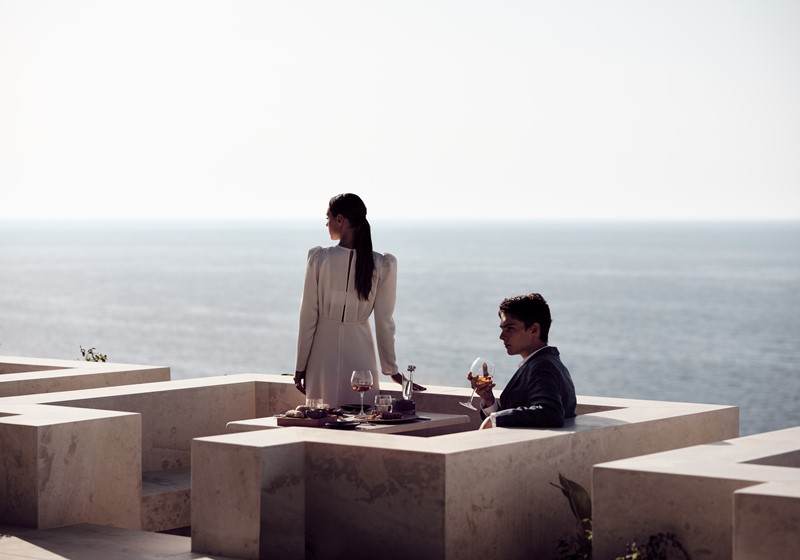 " Cretamos" a la carte Gourmet restaurant
Tradition & Evolution 
Where tradition meets evolution — and where the beloved, traditional recipes of our Cretan grandmothers turn into artfully created dishes thanks to the culinary excellence of the restaurant's master chef. Join us in celebrating the simplicity that lies at the heart of Cretan cooking, elevated to haute cuisine and paired with a fine selection of Cretan wines. Added bonus: the breathtaking views!
Open on selected days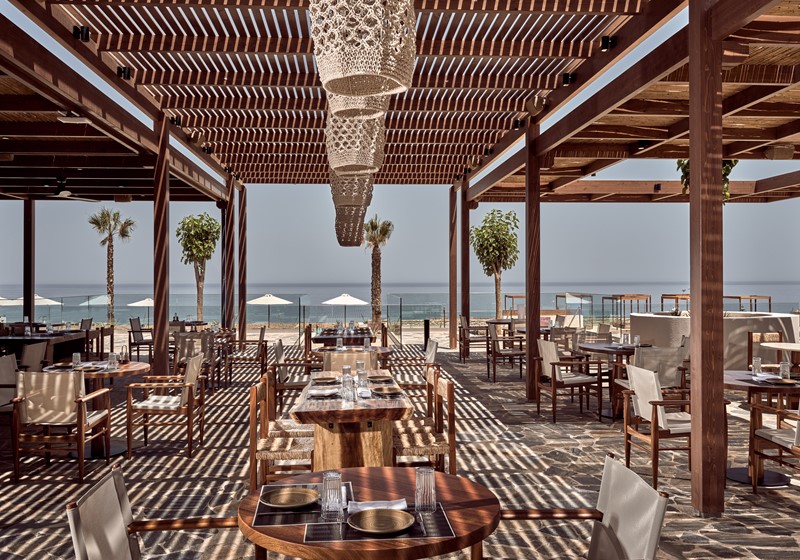 "Platia" - Pop up restaurants
The "Platia" brings to mind that lively main square you'll come across when strolling at a picturesque Cretan village. This is where life happens; everything is colorful, vibrant and exciting. Get ready for a culinary stroll across Crete — all in one place: sandwiches, mezze, gyros, cheeses and an endless list of local drinks. For a little kick or a caffeinated treat, stop by the small coffee shop. Pop-up shops of local restaurants, stores and happenings offer you a one-of-a-kind experience from all over the island. Always wanted to dance like the Cretans? You'll have your chance: there's folklore dancing lessons, live music and so much more.
Open daily
BARS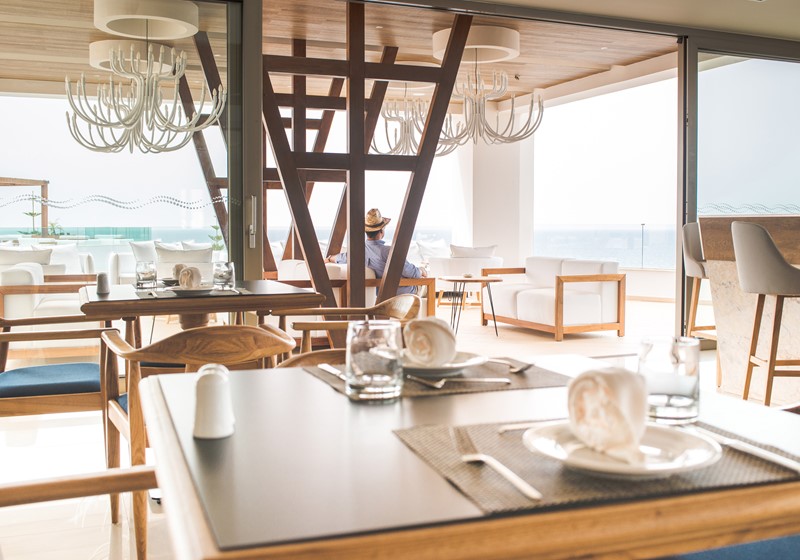 ELIXIR BAR
Treat yourself to the most majestic sunset; 360-degree views of pure, Aegean blue magic! Don't stop at the awe inspiring views though. At the ultra relaxing Elixir Bar, you'll also enjoy extraordinary cocktails with flavors, colors and textures inspired by the very beauty that surrounds you. The white foam capping the waves; the golden sands on the beach; the pink sunset skies; the mood of the moment... All play their part in the concoctions the bartenders will create for you, while the live music and entertainment will add the finishing touches of perfection to your extraordinary night out.
Opening hours: 10:00 – 01:00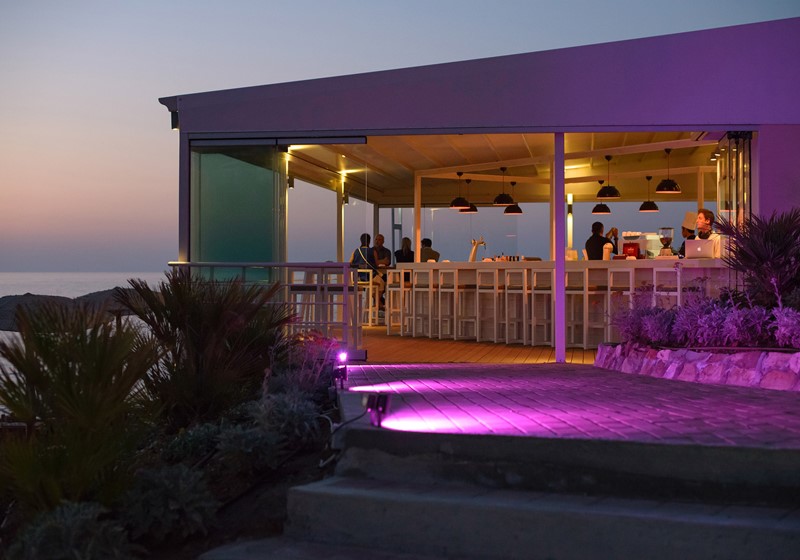 Thea BAR
Let the sound of the waves, hitting the sand in front your very feet, soothe your soul. Explore an extended drink menu with something for every state of mind (and body): Thea bar has everything you might need for a night to remember. A perfectly executed freddo in the afternoon will bring out your inner Mediterranean, while a wide range of cocktails, from strong to fizzy and sweet to velvety, will calm your spirits.
Opening hours: 20:00 – 01:00 (adults-only)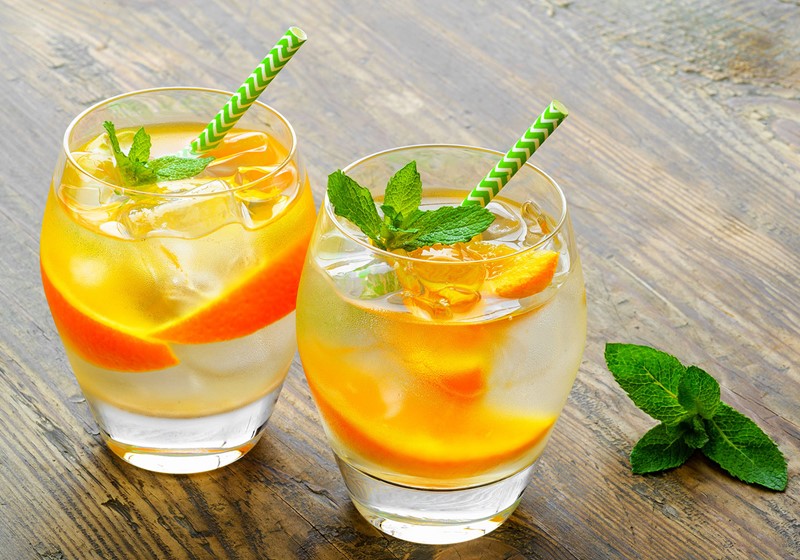 Ammos Bar
Summertime, and the living is easy – especially when you get to relax on a majestic, secluded beach like this. Dip your toes in the sand and let all your worries wash away. Order one of our famous ice mojitos or a cooling soft drink infused with freshly cut Cretan herbs and make this your everyday hangout spot. Caution: leaving the resort may become increasingly hard after this...
Opening hours: 10:00 – 19:00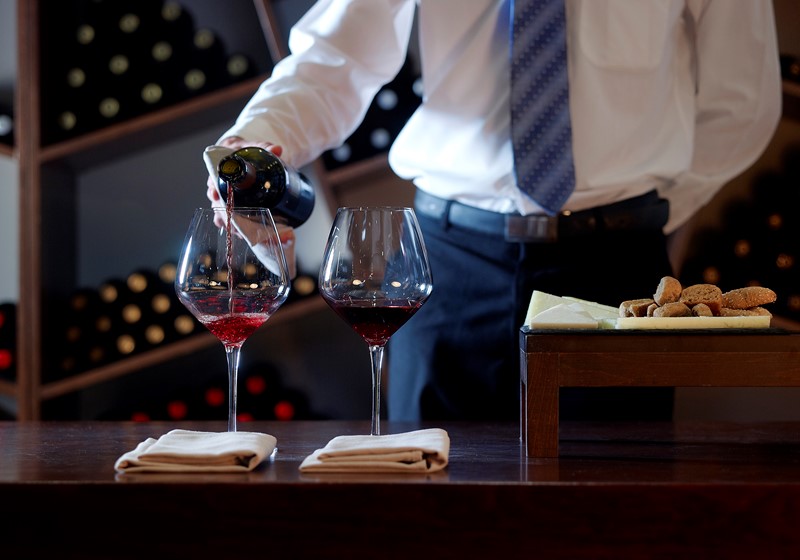 Enoteca Wine Cellar
Let us guide you on a wine trip along the winding paths of the best vineyards in Greece and beyond! Wine aficionados are in for a special treat, with over eighty different labels from all around the world. Elegance and a relaxed ambience create the perfect setting for sampling wine and spending quality time with your significant other.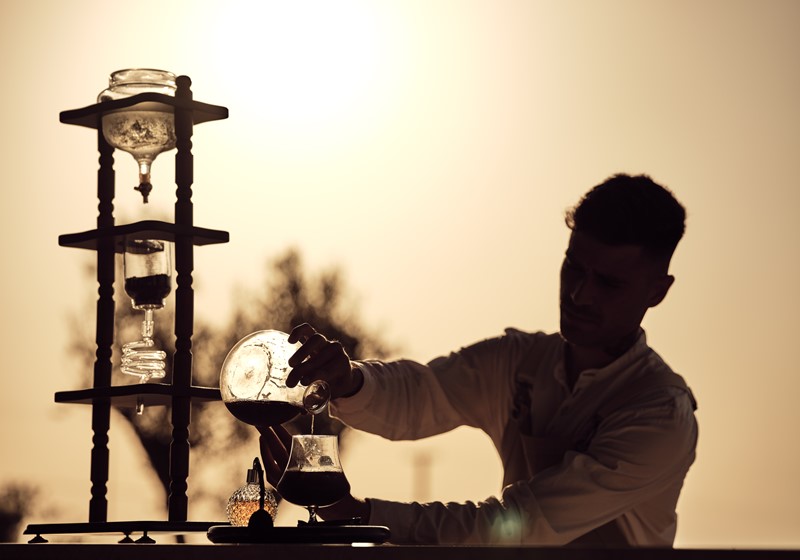 "zeno" Lobby Bar
An explosion of taste awaits you! The finest liquors Crete has to offer, such as raki infused with local ingredients like farm-collected honey, berries and grapes, are here to tantalize your taste buds and lift your spirits. Don't miss the raki flight, a must at this easygoing lobby bar: a tray of different local raki varieties served with matching snacks, like the inventive rose-water raki paired with a rose-water cake.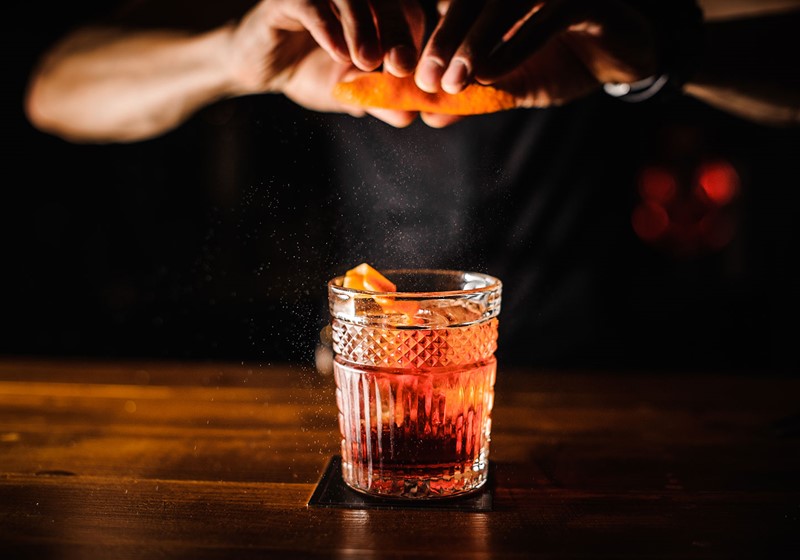 Bar by night
When the night comes, it's time for your inner cosmopolitan to come out and play... and just get carried away in this energetic, dapper and buzzing bar. The drinks are also buzzing, with ingredients such as caffeine or sparkling wine giving you a cool kick and the energy you need to dance the night away. Whether with your date or your friends — the ones you came here with and the ones you'll make along the way. After all, we're all on this majestic island together!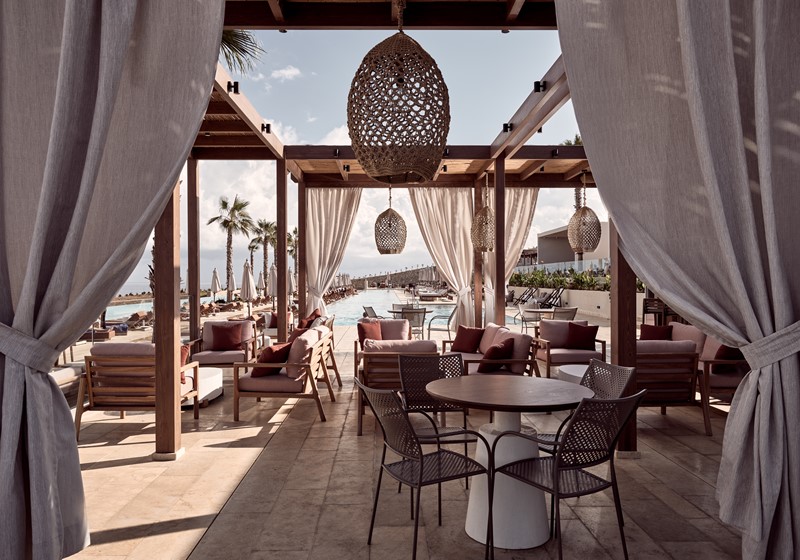 "euphoria" Pool Bar
The perfect spot to enjoy the fine art of… doing absolutely nothing other than relaxing. From our signature cold refreshments using local herbs from the island to perfectly executed frozen daiquiris and margaritas to help you cool down, we've got everything you need for a day well spent by the pool.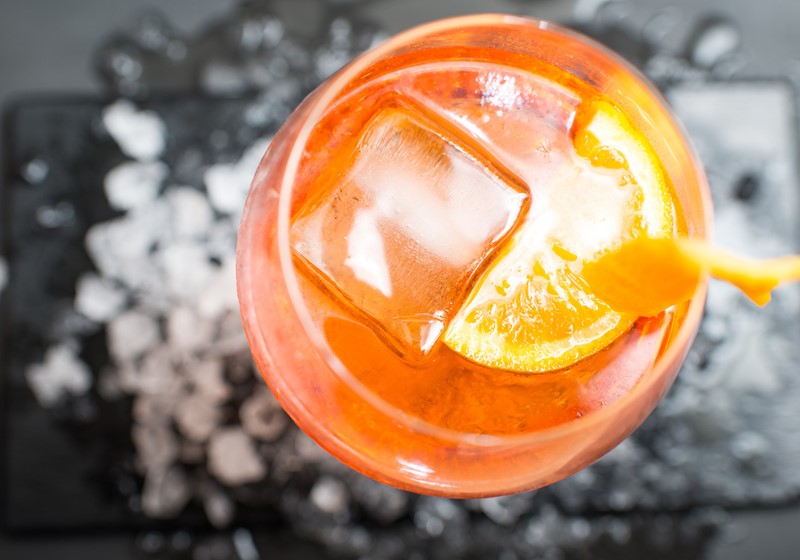 "Sphere" Snack Bar
Enjoy precious family time by the Aqua park and rediscover your long lost inner child! This is the best place to escape (with our without children) and embrace the fun, healing qualities of the water. Put on your bathing suite and a big smile and just forget about adulthood. Life is just a big splash! If  all this activity makes you hungry, we've got a great selection of delicious, totally tempting snacks.